Industrial Shields expands its product range with the incorporation of the new TinkerTouch 7". This multi touch PC Panel, based on the TinkerBoard S board and designed for the industrial environment, is equipped with Linux or Android software.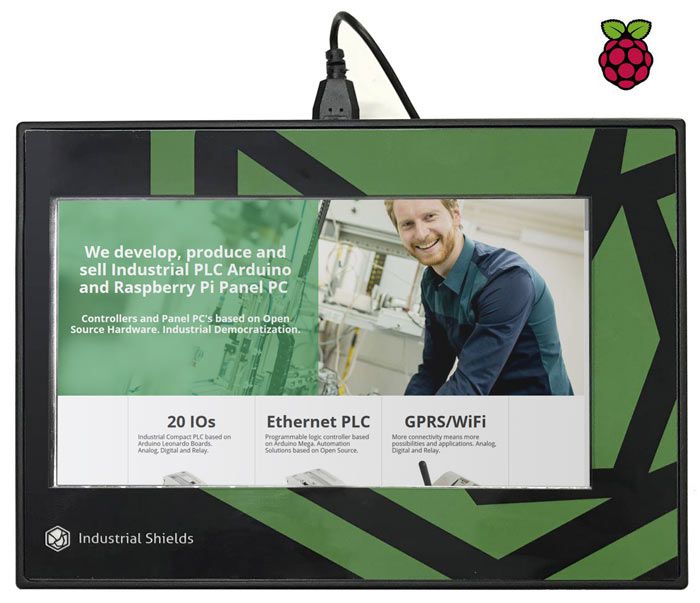 Panel PC monitoring with 10x GPIOs Optoisolated and 7-inch
The 7-inch touch screen and the 10x GPIOs Optoisolated (5-24Vdc) configurable are two of its main features. TinkerTouch 7"  works with the RS485 and RS232 communication protocols and includes RTC (Real Time Clock).
Designed for industrial control and monitoring, Industrial Shields' TinkerTouch 7" is based on open source hardware.
The company thus follows its way towards democratization and industrial liberalization, a key principle which has marked its business policy since its creation date, in 2012.
Thanks to the design, production and commercialisation of products based on open source, Industrial Shields offers products with the same quality and reliability as traditional hardware, but at lower prices. This saving on purchase prices and expenses of licenses (the software programmes are free) means a revolution for the industrial world, which can benefit from the well-priced, effective and reliable IS technology, and 24/7 technical support as well.

The main products produced and sold by Industrial Shields are divided into three families:

PLCs (the latest versions incorporate WiFi and GPRS),
Panel PCs (TinkerTouch 7" is the latest development) and

Open Motes IoT (ultra Low-power boards to work with IoT applications).
All these items can be bought through the IS e-commerce platform, where there also are accessories and power supplies that complement the main products.
About Industrial Shields
Based in Barcelona and founded in October 2012, Industrial Shields is the trademark under the company Boot and Work Corp S.L. With presence in more than ninety countries worldwide and an expanding distribution network, Industrial Shields designs, produces and sells industrial automation products based on open source hardware such as Arduino or Raspberry Pi.
It is a fast growing company with the aim to become the biggest e-commerce of industrial automation electronic devices based on Open Source Hardware.