UPSberry | Just 69,00 €

A Plug&Play UPS Smart Shield and Real Time Clock (RTC) for Raspberry Pi that allow Raspberry PI Shutdown with great safety and efficiency.


It can provide steady power source to Raspberry Pi for an extended period of time when the system is powered-off, to avoid system damage and assure safe shut down. In addition, the product could be used to supply stable power to some applications requiring mobility such as, Raspberry Pi camera, tablet PC or field data collection system.





EASY SETUP AND INSTALLATION
You can configure the working time
Connectivity
With RS485 | I2C
Voltage Working
It works with 12/24 Volts | 5Vdc(USB-TypeC)
SPECIFICATIONS
Supply Voltage: 12~24Vdc | 5Vdc(USB-C)
Supply Current: Recommended using an adapter with the power of 1.5A (20W) and above
Power Supply Interface: 3.81mm plug connector (12~24Vdc)|Micro-USB Type C (5Vdc)
Maximum Output Current: 3A (Thermal-Shutdown included)
Output Voltage: 5V

Main-Board: Raspberry Pi B/B+/2B/3B/3B+/4B and subsequent version. (Other RPI compatible boards)
Communication Interface: I2C | RS485 (UART)
Other Functions: RTC (Real Time Clock)
RTC Battery Interface: Coin Cell 2032 (3Vdc)
Dimension: 64mmx56mm/2.19"x2.20" | 90mmx56mm (including Capacitors)
Mounting Hole Size: As defined on Raspberry PI 4B
FEATURES
Standard Raspberry Pi extension interface, compatible with other expansion boards
Support 3A maximum current output, suitable for more Raspberry Pi applications
Auto-switching of charge/recharge path, designed to against power-down
On-board 1x LEDs for showing the external supply
Programmable switch on/off delay. ( ICSP connector)
Super Caps charge/discharge protection and over-heating protection
The most powerful UPS Shield for Raspberry
NOTES
3Vdc Coin Cell (2032) not included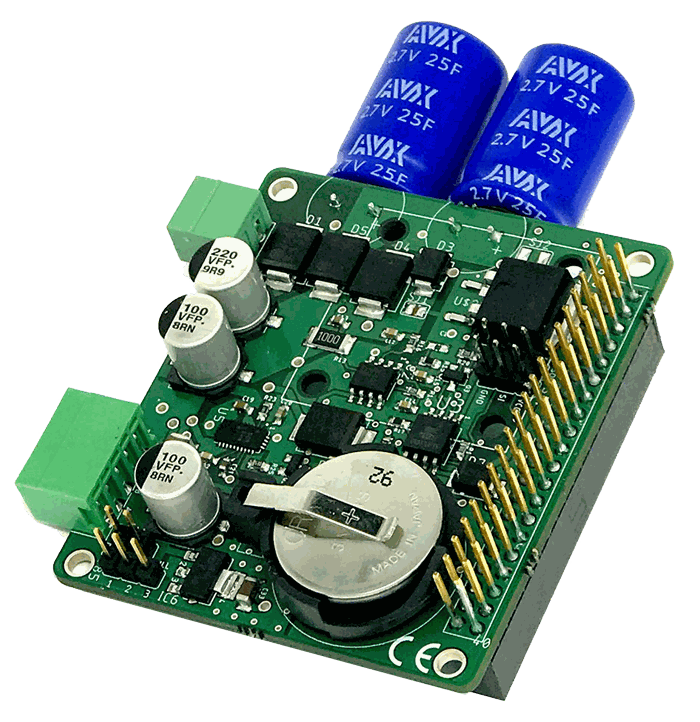 Need more information about the UPSberry?
Fill in the form and we will contact you asap.