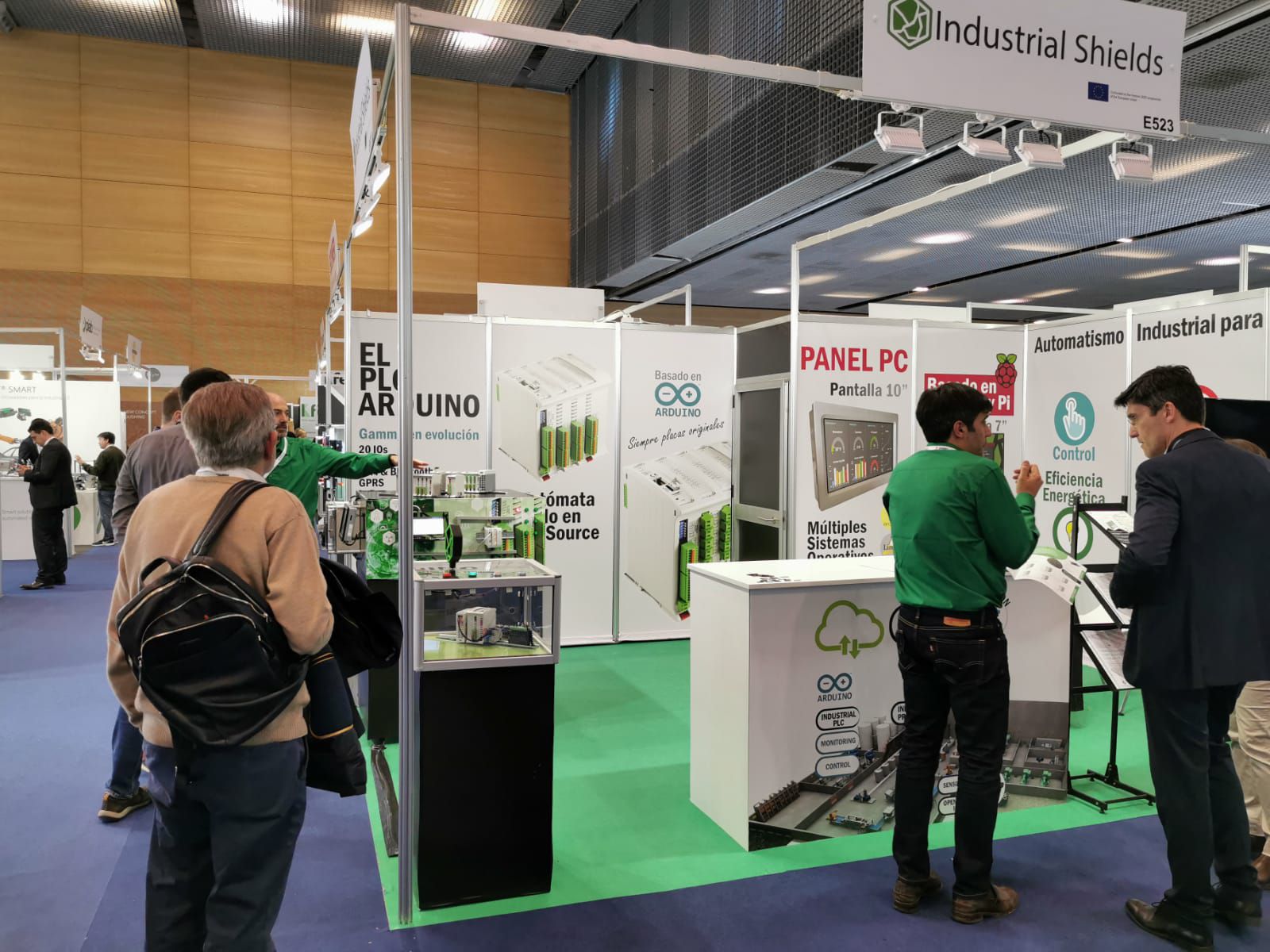 "Our presence has been a success, not only for the exceptional  number of visitors we have had, but for the awareness raised. The Industrial Shield's proposition is innovative and needs events like this to publicize the great advantages that open source solutions can offer to the industrial market." With this positive assessment, Ramon Boncompte, sales director of Industrial Shields, summarizes the company's stay at Advanced Factories congress.
From 3 to 5 March 2020, the technology company presented its range of products 
—
industrial Arduino PLCs, touch screens and open motes based on open source hardware such as Arduino and Raspberry Pi
—
 to the most innovative companies from Industrial Automation, Robotics, Machine-tools and Digital Manufacturing areas. According to Mr Boncompte, Advanced Factories is "a very interesting fair since it is not generalist, but it is very focused on new manufacturing technologies." "In addition, a very important part of the exhibitors are leading companies in the world of automation, like us", he said.
Apart from the entire catalog of products, four demos have been exhibited at the company's stand, where visitors have been able to see the solutions detailed below:
Monitoring of environmental parameters in real time. This application, working in the warehouse of a world's leading Spanish fashion company, monitors the staff's working conditions.
Automation of a stepper motor.
According to Industrial Shields' sales director, the last application was the one which generated more interest among the attendees since it is formed by industrial controllers and a Panel PC
—
all of them open source-based and communicated by GPRS
—
, and it offers a very complete and economical solution for users.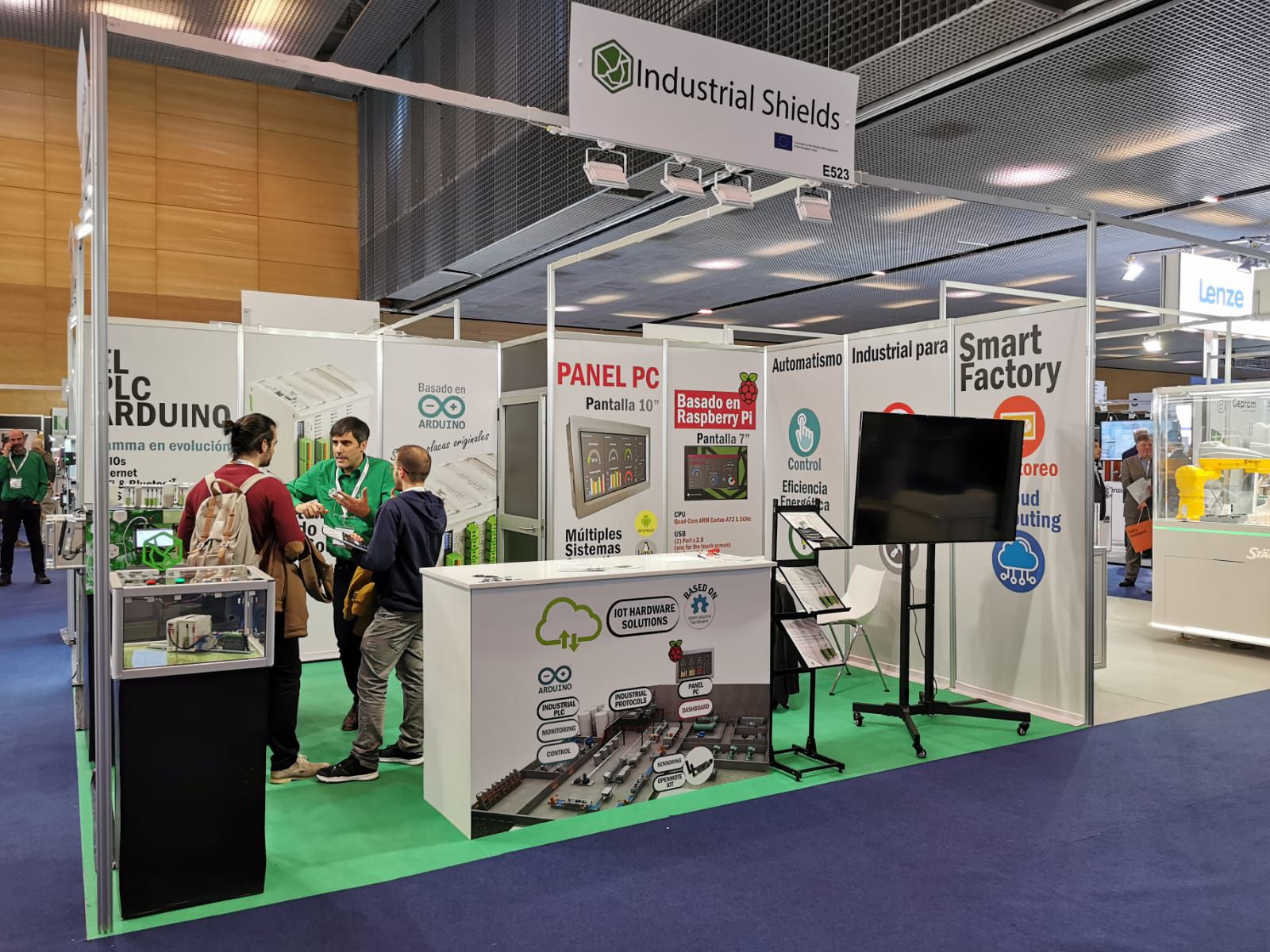 "We have been visited by all kinds of people, from customers who already knew us and had used our products, to people pleasantly surprised to see that Arduino lets us make industrial applications such as our PLCs or Raspberry Panel PCs. In general, we have received a very positive response, although we still have a lot of work to do in order to convince companies that our open source solutions can be used in any application", said Ramon Boncompte.
For Industrial Shields, this has been the first fair of a year with two more congresses already scheduled: Hannover Messe 2020 (July 13-17) and IOT Solutions World Congress (October 27-29).
About Industrial Shields
Based in Barcelona and founded in October 2012, Industrial Shields is the trademark of Boot and Work Corp S.L. With a presence in over ninety countries worldwide and a fully expanding distribution network, Industrial Shields designs, produces and sells products for industrial automation (Programmable Logic Controllers, Touch Screens and Open Motes) based on Open Source hardware such as Arduino or Raspberry Pi.
It is a fast growing company that wants to become the largest manufacturer of equipment for industrial use based on Open Source technology. Through the use of its manufactured solutions, Industrial Shields aims to facilitate customers the achievement of a high level of competitiveness and technological innovation and it is already a benchmark in its sector.