Industrial Shields has been one of the protagonists of the IV Edition of the National Technology Awards 2021 by receiving the award in the Open Source category for its evolution and contribution to the Spanish technology sector.
This gala, held on April the 13th at The Westin Palace Hotel in Madrid (Spain), brought together the leading technology companies on the Spanish market. More than 30 companies with a relevant role in the technology sector, awarded in categories such as Artificial Intelligence, Telecommunications, Internet of Things, Industry 4.0 and Open Source, among others.
Open source in industrial automation
Joan F. Aubets, Marketing Director of Industrial Shields, was in charge of collecting the award. "This is an important recognition for the company," he said. "Within the automation sector, open source solutions are making their way into industrial applications and we believe that there is still a long way to go, as happened with open source software".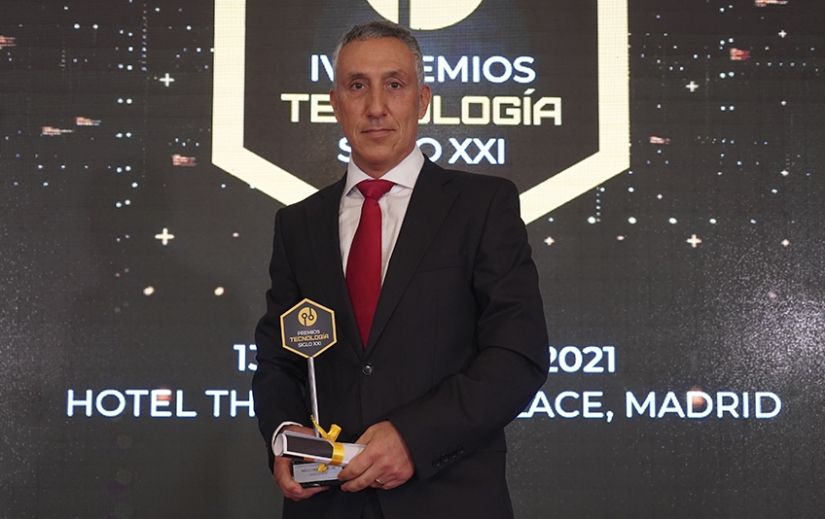 Industrial Shields was born in 2012, when Albert Prieto —the company's CEO— started looking for flexible, low-cost controllers to install in different machines. Seeing that solutions based on open source hardware were not available for the industrial environment, the company started the development and production of devices for industrial automation based on open source hardware.
Located in the province of Barcelona, Industrial Shields develops from its headquarters the entire production of its product range, both in terms of hardware and software. The use of open source technology brings great benefits to design engineers (in charge of product development) and end users. "The quality-cost balance is very important for us and for the market", Joan F. Aubets said. "Through open source solutions, we can provide more specifications at a lower price; moreover, open source solutions are more flexible and accessible than standard industrial solutions".
The company's customers cover a wide range of sectors. From education, maker community to industrial environment, Industrials Shields users are looking for flexible solutions at competitive prices, without neglecting the quality of products. The company has become the only firm with an industrial product based on open source hardware that has international ETL certification in compliance with the UL61010 standard. "Intertek's ETL certification, which follows the UL61010 standard, came to our company after intense work by the entire team, both in product development and in the company's internal processes", said the company's Marketing Director, who sees this milestone as a first step towards the certification of the rest of the company's products and the accreditation of Industrial Shields' industrial quality system.
A world leader in industrial automation solutions, Industrial Shields develops and manufactures PLC controllers, Panel PCs and IoT devices based on open source hardware (Arduino, Raspberry Pi and ESP32). With a presence in more than ninety countries worldwide, its main goals are to multiply the growth of the last years, increase the product catalogue and expand the distributor network worldwide.