Automation, monitoring and control with PAC PLC Raspberry Pi
The industrial automation solution with original Raspberry Pi board.

2 x RS-485 | 2 x Ethernet | CAN Bus | UPS | RTC | 1x I2C | 1x Serial TTL | 1x SPI | MicroSD Slot | 2x MicroHDMI

Order Now! >>
PLC Raspberry Pi Highlights
The PLC Raspberry Pi has the most important features to improve speed process, use a wide range of connections and secure your data and your operating system.
UPS - UNINTERRUPTED POWER SUPPLY
Secure your operating system, your current processes and your data with an uninterrupted power supply that guarantees a clean shutdown in case of a power failure.
HIGH PROCESSING SPEED
The Raspberry Pi allows high speed processing compared to most common PLCs.
MULTI-PROCESS
Work with applications in real time and allowing multi-process.
LINUX or Raspberry Pi OS (previously called Raspbian)
All the power, flexibility and features of the Linux Operating System. Use Linux or Raspberry Pi OS (previously called Raspbian), the Debian-based solution from Raspberry Pi.
MULTIPLE CONNECTIVITY, MULTIPLE OPTIONS
Thanks to the dual Ethernet ports, the dual RS-485, WiFI, Bluetooth, CAN bus and other options, you can connect to a large number of devices and to use multiple protocols and communication ports.
Up to 36 Digital Inputs
Up to 16 Analog Inputs
Up to 22 Digital Outputs
Up to 8 Analog Outputs
Up to 23 Relay
Up to 6 Interrupt Inputs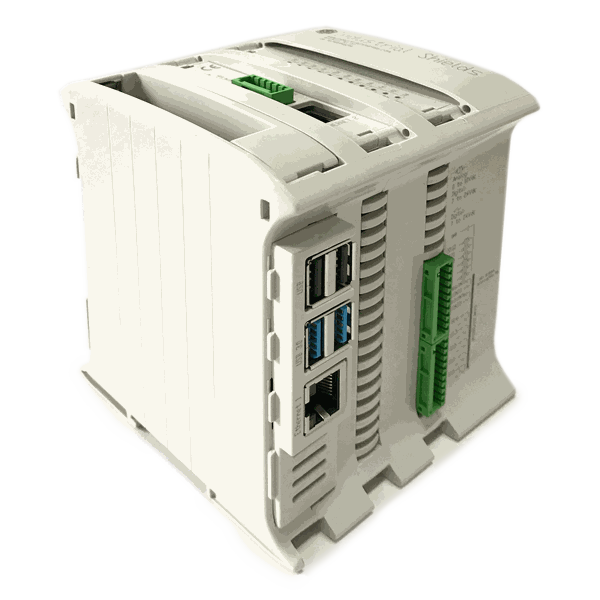 Ask for more information!