Introducción
In this post you will see how to install and configure an on-screen keyboard on the Panel PC de Industrial Shieldss, which is useful for when the panel pc is being used in kiosk mode. In some cases an onboard keyboard is not installed by default and you have to set it as it is very useful to take advantage of the industrial touch screen. The Kiosk software is a system and user interface software designed to enclose the system in a way that avoids user interaction and activities on the device outside the scope of execution of the software. It is very useful when you want to implement a configuration that should not be changed.
Requisitos
Instalación Teclado On-board
El primer paso es abrir el terminal del Panel PC para ejecutar el comando de instalación. Para abrir el terminal, presiona Ctrl+Alt+T o simplemente haz clic en la opción de terminal en la esquina superior izquierda. Una vez abierto, escribe el siguiente comando para instalar el teclado:
> sudo apt-get upgrade
> sudo apt-get install onboard
> sudo apt install at-spi2-core // This is a dependency
> sudo apt-get install onboard
Una vez que hayas introducido el comando tendrás que introducir la contraseña inicial. Por defecto la contraseña es siempre raspberry.
Nota: no verás cómo se escribe la contraseña, pero se introducirán los caracteres.


Para aplicar todos los cambios, reinicia el sistema con el siguiente comando:
> sudo reboot
Once it is installed you can run it from clicking on the top left corner ( Rpi icon) and clicking on Universal Access ( Alternatively you can type "onboard" on the terminal). To change its settings, you can click on preferences on the same drop down menu and select "Onboard Preferences". In the preference ,check "Auto-show when editing text" to enable auto-pop up feature.

Si no hay ninguna conexión a Internet disponible, no dude en ponerse en contacto con nuestro departamento de soporte técnico.



Menu → Universal Access→ Onboard
 Menu → Preferences →Onboard Preference

y selecciona la opción de la casilla de verificación en Accesorios.
Configuración del modo Kiosko
El modo Kiosko permite abrir una interfaz de aplicación al abrir el Panel PC. Para activarla, tendrás que modificar un archivo interno.
En primer lugar, tendrás que abrir la terminal Raspbian con Ctrl+Alt+T. Una vez que la terminal esté abierta, sigue los siguientes pasos::
    1.     Localiza el archivo de autoinicio para configurar el inicio del Sistema Operativo; puede acceder a él introduciendo la siguiente ruta en la terminal:
> sudo nano /home/pi/.config/lxsession/LXDE-pi/autostart
            Nota: En las últimas versiones de Raspbian este archivo no existe por defecto. Créalo usando el comando táctil seguido de la función de auto-arranque.
            Después de ejecutar el comando, se abrirá un archivo en la terminal actual. Cualquier contenido anterior debe ser eliminado.




 If you do not find the previous path, the file could be located in the following one:
> sudo nano /etc/xdg/lxsession/LXDE-pi/autostart


  2.     
Introduce la siguiente línea en el archivo de arranque automático:
@chromium-browser --kiosk --app=[app path]


            Nota: En la ruta de la aplicación, elige la que quieras utilizar. Para guardar el archivo en el editor de Nano, escribe Ctrl+X y luego Y(sí)
            Ejemplo:


@chromium-browser --kiosk --app=http://127.0.0.1:8000
  3.     
Finalmente, reinicia el Panel PC (Raspbian). Una vez reiniciado, se mostrarán los cambios aplicados.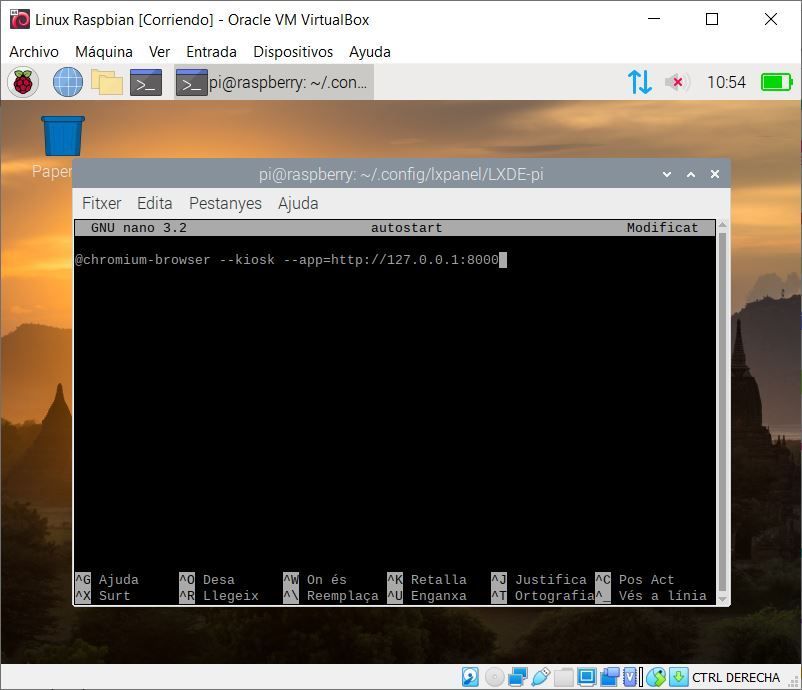 Note: Once you are in the Kiosk mode, if you want to return to normal desktop mode, you have to press ctrl+alt+F1, search the autostart file previously modified, edit it commenting the added line, save it and reboot the system.