En este post, vamos a explicar cómo hacer lo básico cuando trabajamos con entradas digitales del controlador PLC de Industrial Shields. Entenderás cómo conectar y configurar los PLCs para estar seguro de poder leer las entradas digitales.
Te recomendamos que leas los siguientes blogs para entender el programa de este post. Usamos las siguientes entradas del blog para hacer este ejemplo:
In order to work with digital inputs you will need any of our PLC for industrial automation:
Almost all the digital inputs are always connected to the internal Arduino, but in a few cases, the user can choose a special peripheral configuration or a GPIO normally working.
In these cases, the user can choose between two options through the switches
Cada interruptor puede seleccionar solo una configuración. Por ejemplo, en este caso estamos viendo la configuración de GPIOs de un M-Duino 57R+. Si pones el interruptor de la derecha en el superior, se activará la entrada I2.1 y podrás trabajar con esta entrada como digital. Si el interruptor está en la posición de la izquierda, activarás la línea SCL que se utilizará para la comunicación I2C. Ten en cuenta que cada interruptor tiene dos configuraciones diferentes: debes seleccionar la opción derecha o la izquierda.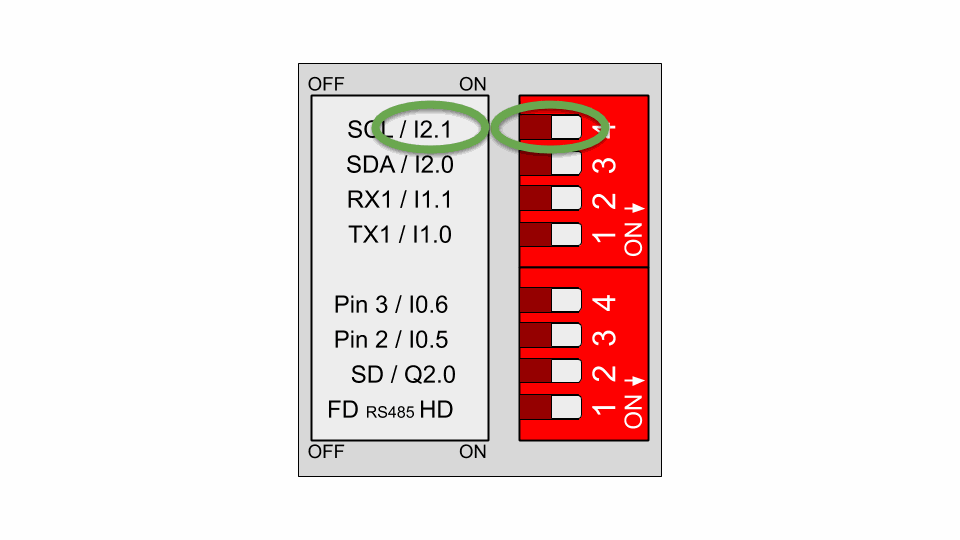 I2.1 input enabled - SCL disabled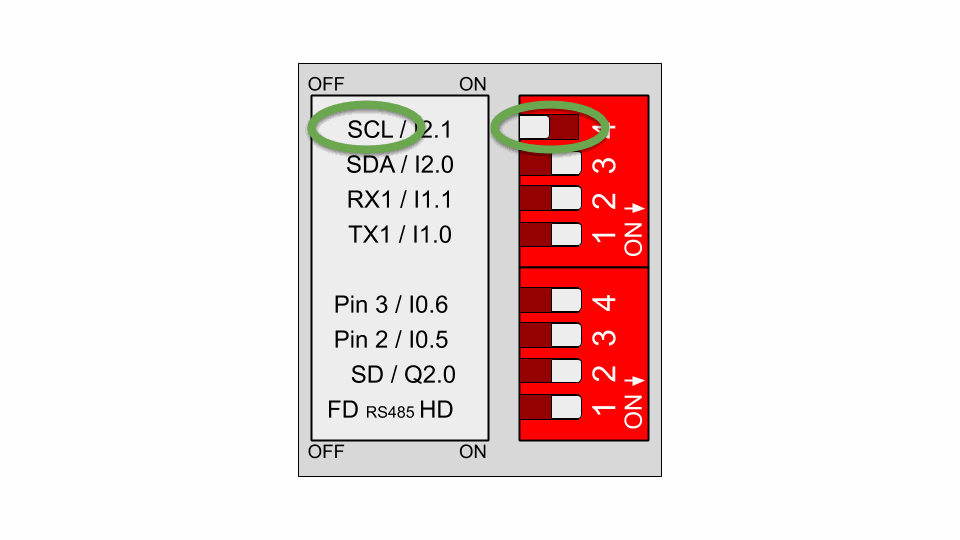 Entrada I2.1 deshabilitada - SCL habilitado


There are three different types of inputs in the Industrial Shields PLCs:
5V - 24V input
5V - 24V optoisolated input
5V input
Each one has a particular draw in the case of the PLC. Remember only the Pin 2 and Pin 3 are 5V compatibles:

5V - 24V entrada optoaislada

Entrada de 5V - 24V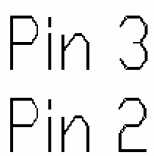 Entrada de 5V
No todas las entradas deben estar conectadas de la misma manera. Mientras que las entradas no aisladas deben estar referidas a la misma tierra que el PLC, las entradas aisladas pueden conectarse a las tierras de entrada, permitiendo aislar los sistemas del PLC. De todos modos, la entrada optoaislada puede ser conectada a la tierra del PLC también.
The following images show how to connect the different inputs to the PLC for industrial automation: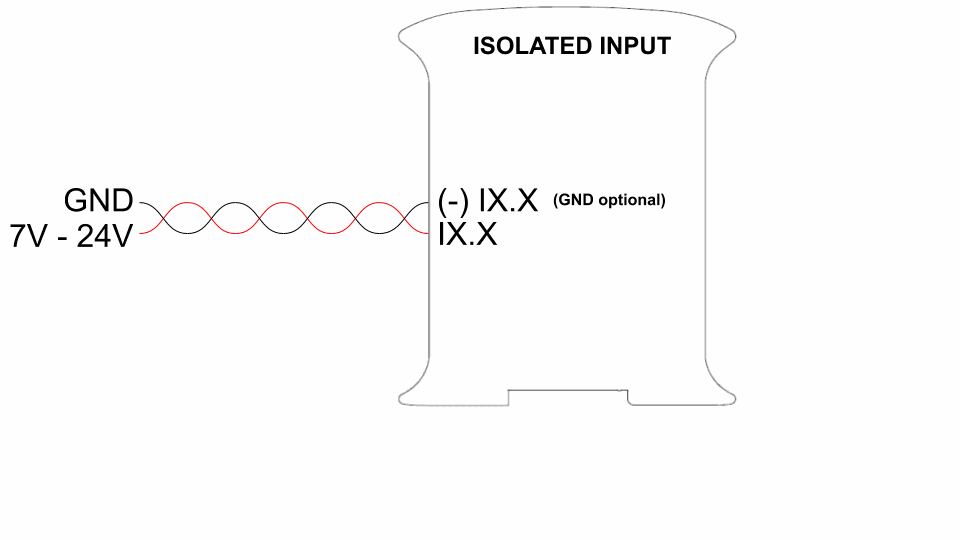 5V - 24V entrada optoaislada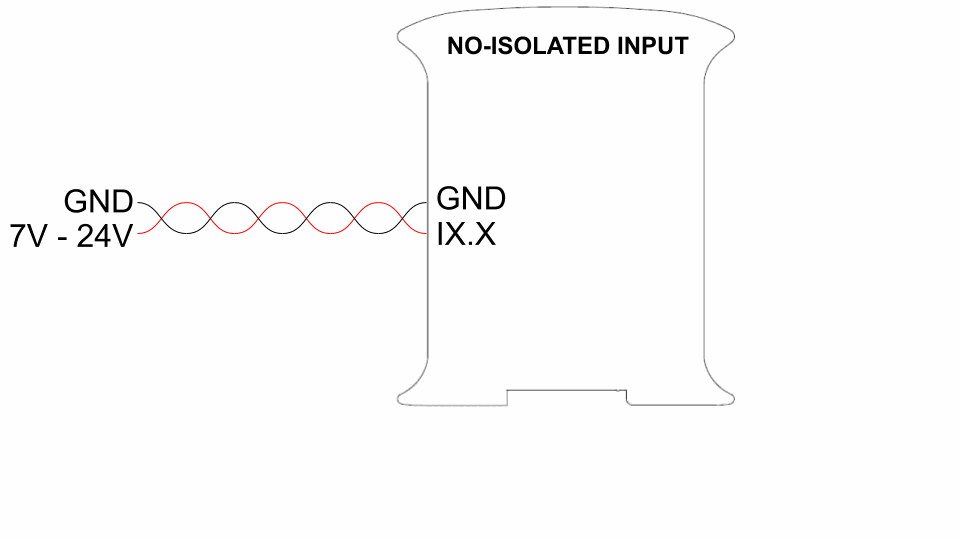 Entrada de 5V - 24V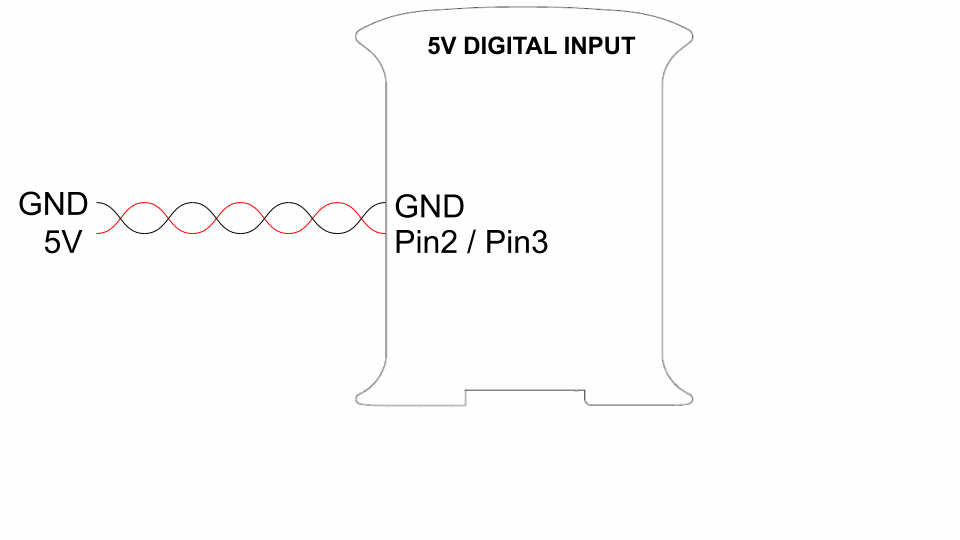 Entrada de 5V
Para programar los digitales GPIO, debes tener en cuenta que puedes leer los valores con el siguiente comando:
This function returns "0" or "1" depending of the actual value of the input. 

GPIO is the name of the input. Imagine we want to know the state of the "I0.4" input, then, we must write this line:
digitalRead(I0_4);
Las entradas "2" y "3" no tienen un nombre especial, y para leerlas debemos escribir:
digitalRead(2);
digitalRead(3);

Hay que tener en cuenta que no es necesario configurar las entradas digitales del PLC como digitales, excepto con las entradas compatibles de 5V. Significa que debemos configurar las entradas en la configuración antes de leerlas:
pinMode(2,INPUT);
pinMode(3,INPUT);
Puedes ver un ejemplo de GPIO digital de lectura en el siguiente párrafo:
// Digital read example
// This example reads the I0_10, I0_2 and Pin 2 inputs, and shows via serial if they are active

// Setup function
void setup()
{    
    // Set the speed of the serial port
    Serial.begin(9600UL);

    // Configure Pin 2 as a digital input
    pinMode(2, INPUT);
}

// Loop function
void loop()
{
    // Check Pin 2
    if (digitalRead(2))
        Serial.println("Pin 2 active");    
    
    // Check I0_10
    if(digitalRead(I0_10))
        Serial.println("I0_10 active");
    
    // Check I0_2
    if(digitalRead(I0_2))
        Serial.println("I0_2 active");