Did you know that you can build your industrial PLC based on open source with only 7 ingredients and a minimum investment?
By the end of this tutorial, you will have your own Arduino controller with:
8 relay outputs

9 optoisolated inputs
(No other communications will be needed but, if necessary, they could be added later).

Ingredients
| | | | |
| --- | --- | --- | --- |
| | Quantity | Unit Price | Total Cost |
| Arduino Leonardo board | 1 | 18,00€ | 18,00€ |
| Protoshield Rev3 | 3 | 9,90€ | 29,70€ |
| Electronic components for 3 optoisolated inputs | 3 | 4,50€ | 13,50€ |
| Arduino 4 relays shield | 2 | 20,00€ | 40,00€ |
| External connectors | 17 | 1,15€ | 19,55€ |
| Development cables | 1 | 5,50€ | 5,50€ |
| Plastic case | 1 | 5,80€ | 5,80€ |
Technical Difficulty:   
Preparation
The relay boards already have the relays built-in, you just have to assemble the boards on top of each other, together with the Arduino board. To get the isolated inputs, you will have some extra work as you will have to buy all the components.

By searching on the internet, you can see an infinite number of simple diagrams that show you how to do this. Making it very simple, you can see an example in the image.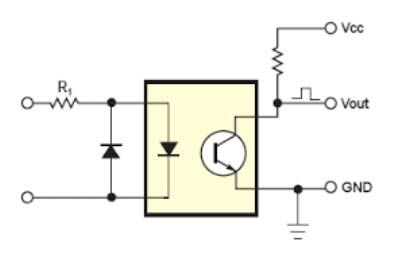 Note that this scheme is very simple but, in laboratory tests, it always works. For a matter of space, we have seen that 3 protoshields are necessary to be able to weld each of these components to the board and to have 3 inputs in each of these protoshields. We have incorporated external plug&play connectors to make the connection to the industrial board easier.
Materials
The total cost of the material is 132.05 €.
Important: ⚠️ We do not recommend at all the use of "Chinese" or "pirate" Arduino plates. Even if you are assembling an Industrial PLC with open source components, the origin of the elements is important to guarantee the quality of service.
Once all the material has been acquired, it is time to assemble your PLC.           
Estimated time: 5 hours (estimated price per hour 12 € 🞿) = 60 €
To weld the different components, the assembly of the shields on top of each other, you will need about 5 hours. In this case, it all depends on your knowledge of welding.
The price per hour is indicative, it really depends on the value you want to bring.
Result
If you have read here, you have in your hands a PLC based on open source, with the following specifications:
| | |
| --- | --- |
| Power supply | 5Vdc |
| Communication ports | Serial TTL, I2C, SPI |
| Secure entries | 9 at 24Vdc |
| Relay outputs | 8 at (125Vac 2A) |

Final Cost
| | |
| --- | --- |
| Total Hardware | 132,05€ |
| Total Hours | 60,00€ |
| Total Cost | 192,50€ |
As you can see, from a 20 € board, you have obtained a device suitable for industrial use that will allow you to automate an installation of up to 20 digital inputs to 8 relay outputs. And for less than 200 euros.
(⚠️ Attention! To install your new PLC in an industrial environment, the equipment should be CE certified. Penalties for an installation without CE can become criminal).

Setting up your own PLC is great, it is a lot of fun and you will learn a lot from it but... do you feel like "cooking"? Do you really have the time? If you want to save hours of work and 30% of your money, from Industrial Shields we propose you the solution that outweighs your DIY device.
It is our industrial PLC Arduino ARDBOX PLC 20 I/Os RELAY HF.
For 147 euros, we offer you:
10 Inputs: Analog (0-10Vdc) and Digital (7-24Vdc)

10 Outputs: (8x) Relay 220Vac and (2x) Analog outputs


Communications:  USB, RS485 (Half-Full Duplex), I2C, SPI. MODBUS RTU Available, RS232

Industrial and robust solution

1 year warranty

Technical service accessible 24/7

Compliance with all current regulations

CE Certification
In short, we give you much more for less. Now, you have to choose if you prefer to cook or call the take-away service. ;)
Contact us for more information. We will help you to choose the product that best suits your needs. We are waiting for you!