You order an industrial Raspberry PLC, the PLC is shipped to you, and once you unpack it, what next? How do you access it to be able to see the terminal?
You can either access the Raspberry Pi PLC controller remotely, as you can see
here >>>
, or you can access using an HDMI cable, as you will learn in this blog post.
HDMI stands for High Definition Multimedia Interface and is the most frequently used HD signal for transferring both high-definition audio and video over a single cable.

So, if you could not access the industrial Raspberry Pi PLC through SSH, there is still another way to access the Raspberry Pi-based PLC.
For this, you will need at least one of these options:
A cable from micro HDMI to HDMI, an extra monitor, an extra keyboard, and obviously, the power supply.
A micro HDMI adapter, a cable from HDMI to HDMI, an extra keyboard and a monitor. And the power supply.
Now, follow these steps:
Switch on the monitor

Connect the keyboard to the USB of the Raspberry Pi industrial PLC. Optionally, if your Raspberry PLC image is graphical, you will also need a mouse.

Connect the micro HDMI cable from the Raspberry PLC to the HDMI port of the monitor.

Power on the open source PLC Raspberry Pi from the power supply.
You must not switch steps 3 and 4, because the screen may not turn on correctly.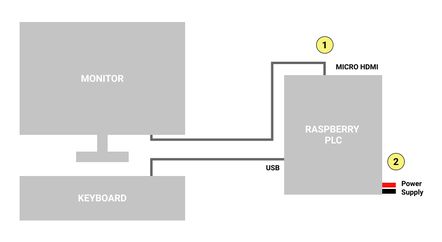 After all these indicators, you will never have any problem accessing your industrial PLC!