Look for in our Blog. You will find multiple applications, solutions, code examples. Navigate using the tag cloud or search using specific criteria
DALI Library for Arduino based PLC
DALI Library for Arduino based PLC
Introduction
DALI stands for Digital Addressable Lighting Interface. DALI is a standard protocol specified by the International Elctrotechnical commission.
DALI protocol uses the Master slave architecture where one master can monitor and control each light point. The communication is via two-wire, low-voltage bus running at low baud rate (1200 bits per second). Signal levels are defined between 0 to 4.5V for logical 0 and between 11.5V to 22.5V for logical 1.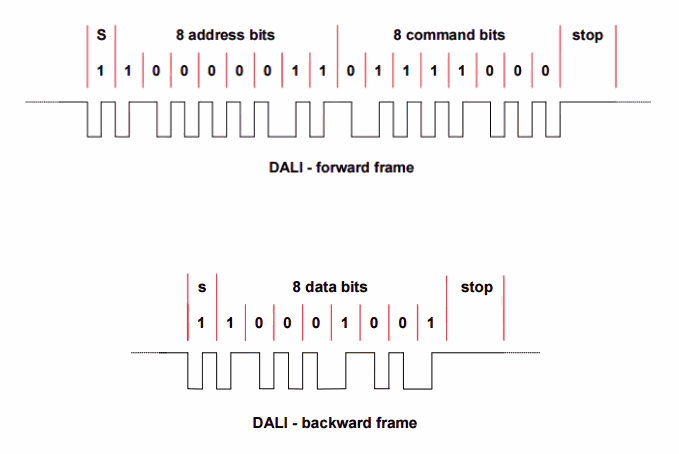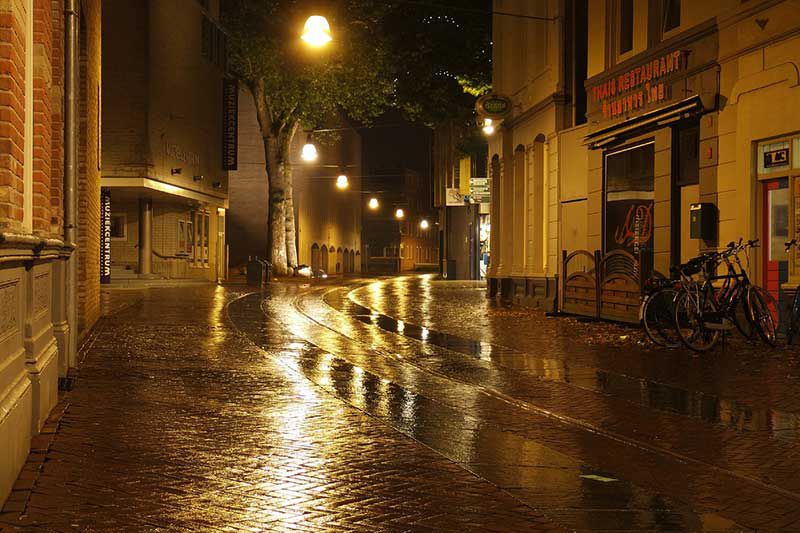 Arduino community have developed a library to control DALI slaves.  DALI library >>
At the moment you cannot get responses from the device, but you can find whether device give response or not. It's enough to control and initialize DALI lights.
Software
Below is showed and example code of how to use DALI library:
#

include

<

Dali.h>

constint

 DALI_TX = 

3

;

constint

 DALI_RX_A = 

0

;
#

define

BROADCAST_DP

0b11111110

#

define

BROADCAST_C

0b11111111

#

define

ON_DP

0b11111110

#

define

OFF_DP

0b00000000

#

define

ON_C

0b00000101

#

define

OFF_C

0b00000000

# 

define

QUERY_STATUS

0b10010000

# 

define

RESET

0b00100000

void

setup

() {
  Serial.

begin

(

74880

);
  dali.

setupTransmit

(DALI_TX);
  dali.

setupAnalogReceive

(DALI_RX_A);
  dali.

busTest

();
  dali.

msgMode

 = 

true

;
  Serial.

println

(dali.

analogLevel

);

help

(); 

//

Show help
}

void

help

() {
  Serial.

println

(

"

Enter 16 bit command or another command from list:

"

);
  Serial.

println

(

"

help - command list

"

);
  Serial.

println

(

"

on - broadcast on 100%

"

);
  Serial.

println

(

"

off - broadcast off 0%

"

);
  Serial.

println

(

"

scan - device short address scan

"

);
  Serial.

println

(

"

initialise - start process of initialisation

"

);
  Serial.

println

();
}

void

sinus

 () {

uint8_t

 lf_1_add = 

0

;

uint8_t

 lf_2_add = 

1

;

uint8_t

 lf_3_add = 

2

;

uint8_t

 lf_1;

uint8_t

 lf_2;

uint8_t

 lf_3;

int

 i;

int

 j = 

0

;

while

 (Serial.

available

() == 

0

) {

for

 (i = 

0

; i < 

360

; i = i + 

1

) {

if

 (Serial.

available

() != 

0

) {
  dali.

transmit

(BROADCAST_C, ON_C);

break

;
  }
  lf_1 = (

int

) 

abs

(

254

 * 

sin

(i * 

3.14

 / 

180

));
  lf_2 = (

int

) 

abs

(

254

 * 

sin

(i * 

3.14

 / 

180

 + 

2

 * 

3.14

 / 

3

));
  lf_3 = (

int

) 

abs

(

254

 * 

sin

(i * 

3.14

 / 

180

 + 

1

 * 

3.14

 / 

3

));
  dali.

transmit

(lf_1_add << 

1

, lf_1);

delay

(

5

);
  dali.

transmit

(lf_2_add << 

1

, lf_2);

delay

(

5

);
  dali.

transmit

(lf_3_add << 

1

, lf_3);

delay

(

5

);

delay

(

20

);
  }
  }
}

void

testReceive

 () {
  dali.

transmit

(

0

, 

254

);

delay

(

200

);
  dali.

transmit

(

1

, 

0x90

);
  Serial.

println

(dali.

receive

());
}

void

loop

() {

constint

 delaytime = 

500

;

int

 i;

int

 cmd1;

int

 cmd2;
  String comMsg;

//

Read command from port

delay

(delaytime);

while

 (Serial.

available

()) {
  comMsg = comMsg + (

char

)(Serial.

read

());
  }; 

//

read data from serial

if

 (comMsg == 

"

sinus

"

) {

sinus

();
  };

if

 (comMsg == 

"

scan

"

) {
  dali.

scanShortAdd

();
  }; 

//

scan short addresses

if

 (comMsg == 

"

on

"

) {
  dali.

transmit

(BROADCAST_C, ON_C);
  }; 

//

broadcast, 100%

if

 (comMsg == 

"

off

"

) {
  dali.

transmit

(BROADCAST_C, OFF_C);
  }; 

//

broadcast, 0%

if

 (comMsg == 

"

initialise

"

or

 comMsg == 

"

ini

"

) {
  dali.

initialisation

();
  }; 

//

initialisation

if

 (comMsg == 

"

help

"

) {

help

();
  }; 

//

help

if

 (comMsg == 

"

test

"

) {

testReceive

();
  }; 

//

graph

if

 (dali.

cmdCheck

(comMsg, cmd1, cmd2)) {
  dali.

transmit

(cmd1, cmd2);  

//

command in binary format: (address byte, command byte)
  }

delay

(delaytime);
};